PErSONAL PROJECT
TAKE-OFF
A place where ideas happen
The vision
Set-up a place in any large metropolitan area that provides people access to industrial tools and equipment to build their own projects, offer flexible workshop space rentals to artisans, artists & start-ups of all kinds, find multi-displinary people to collaborate with, follow classes and organise events.
CHEAP ACCESS TO POWERFUL TOOLS
Approx. 1'500 m2 of machinery of all kinds, with trained staff to help, as well as a co-working space, small offices, classroom, and a shop offering materials and consumables.
FLEXIBLE WORKSHOP SPACE RENTAL
A small village of re-purposed containers offering any artisan, artist or entrepreneur the possibility of renting workshop/store space and benefiting from the presence of others.
COLLABORATION, CLASSES & EVENTS
A formidable hive of multi-disciplinary skills waiting to mingle and catalyze new projects. Classes to learn the usage of tools and crafts. Events to promote new product launches, artists...all around a great central restaurant/bar!
Cheap access to powerful machines, tools & design software
A place to prototype and build
Not many people can afford a CNC machine, a professional 3D printer, a laser cutter, a plastic moulder, a wood lathe, or any number of other high-cost tools. Yet many would benefit easy access to such machines to prototype their ideas, try out new things... A central part of Take-off would be to offer a membership-based access (just like your typical gym subscription, and pretty much for the same price!) to hundreds of thousands francs worth of equipment, distributed across various workshops, along with trained professionals to teach and help anyone with their projects.
Inspiring projects
Shared access to tools to fabricate stuff is not a new concept. As is often the case, the US has paved the way in this area, with a maker culture that has emerged over the last years. In this area, the Fab Lab concept is well known, originating from the famous MIT Media Lab at the turn of the century. A well know commercial endeavour is TechShop, with 7 locations in the US, and a recent $60M funding - love what they are doing.
Flexible workshop space rental
A place for your business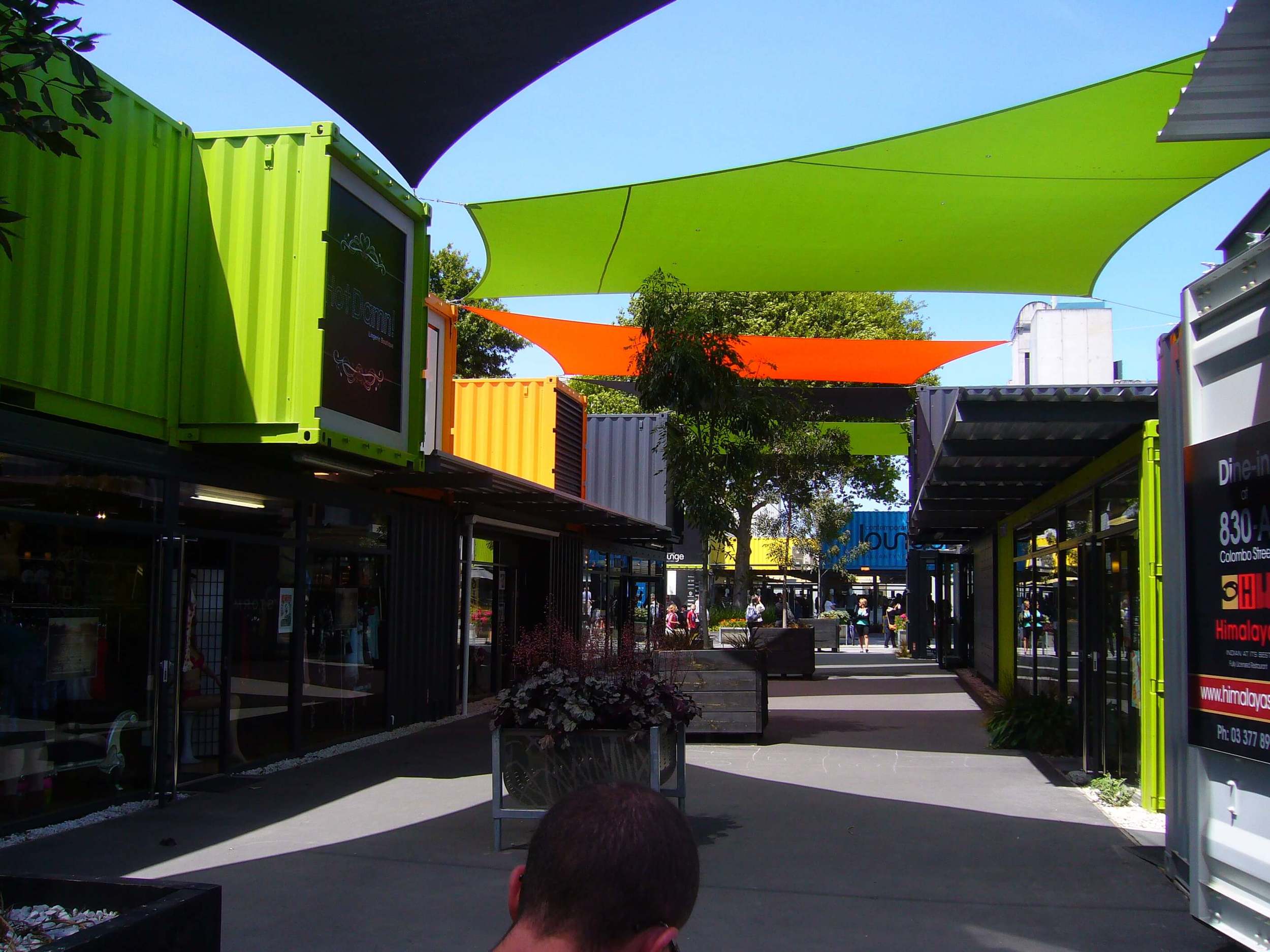 The workshop village
An exciting village of re-purposed containers will offer a flexible access to workshop space to a diverse community of artisans, artists and entrepreneurs of all kinds. A solution for the premium cost of space in the region, it will more importantly create a unique place to attract new ventures of all kinds (high-, low-tech, artistic...) and a melting-pot of skills representing a formidable potential for novel collaborations.
Repurposed containers - flexible & fun
Repurposed shipping containers as homes, stores, workshops, etc is nothing new. There are many great examples of how they have been used across the world. Some benefits of using containers for this project are:
completely customizable - they can be quickly modified to fit whatever anyone's needs are
durable - it's steel
modular - easy to stack, store, and ship as many units as necessary
original & fun - better than standard & boring...
INSPIRING PROJECTS
Close to home, there is the Basis-Lager in Zurich. Home to 200 people of various crafts and arts, spread across 4 structures of containers, including a restaurant. This is not only an inspiring use of containers, but also of the gathering in one place of a community of artisans, each with a container as workshop.
In Amsterdam, NL, there is an apartment complex built with containers - you can read about it in a Huffington Post article.
Further away, there is the Christchurch, NZ, re:start project
Of course, there are many more example...Google can help you there ;-)
Collaboration, classes & events
A place to share
It's difficult to imagine a better place to meet people to work with. Just imagine hundreds of passionate people coming in and out everyday, whether it is to use the shared access to tools, or because they are renting a workshop, or taking a class... this mix of people, day in, day out, represents a formidable potential for encounters, new ideas, partnerships.
The obvious case is for classes to learn the usage of all the available tools & machinery. However, all the people participating in Take-off represent an even greater and diverse source of classes and seminars. Think of a classes given by Take-off residents such as stone carving, fashion design, ....
The sheer diversity of skills, arts & crafts present provides many opportunities for events of all kinds. Whether it is a product launch, a vernissage, anything would go in the available conference hall and bar/restaurant.
Arts, crafts & other skills
A place for all types of creation
There are incredibly many crafts, arts and industry segments we can imagine being represented in some form or another...here are but a few...no doubt you will be able to think of others ;-)
ideas testing lab for larger companies

technology innovation

automotive

renewable energy

plastic arts

electronics

education

architecture
hardware startups

graphic design

fashion

medical devices

custom objects

communication

painting

custom furniture